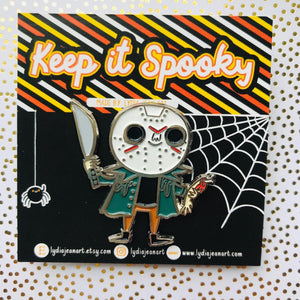 Little Ghost Shack
Little Jason Enamel Pin
Regular price
$10.00
$0.00
Unit price
per
The original Little Jason Enamel, don't let those rip off sites fool you! I've had this design stolen, so why not get the original!
:::(PIN DETAILS):::
- Enamel Pin
- Silver Enamel
- 1.5"
- Two rubber backings for extra security
- Secured on a backing card and mailed securely... Gotta keep him safe!

The shop is not responsible for lost pins. If you want to keep your pin extra secure on thinner material items, please look into PIN LOCKS, which can be found on Amazon. I've had my share of lost pins and don't want you to share the same fate. Please follow this link if you are attaching your pins to thinner slippery materials like nylon, thin cotton, spandex, etc.
---